With the New Year coming, you might find yourself looking to redecorate your living room. With renovations you want to make sure your home is current and on trend with what's popular with interior decorating right now. While it is difficult to be certain what the most popular trends for the coming year will be, we can give our predictions for what you can expect so you can get a head start on planning the updates to your home.
Round Oak Tables
A good coffee table, or a pair of strong end tables can really set the tone of any living space. Imagine a perfectly smooth, flawlessly finished whole piece of oak in your family or formal living room. Pair this table with either a column or X-base and you'll have a piece that will last for years to come. What is great about the solid oak tables is that they will fit in with almost any other décor you might already have so if you're looking to only replace a few items, this might be something to consider without having to completely overhaul your living space.
Warm Desert Tones
In the 1990s, beige – in all its forms – was really popular but it seemed to fade away when all the shades of grey becoming popular in the early 2000s. It's making a come back though. These tones are best paired with neutrals like birch, taupe and walnut. Beige works with so many kinds of décor, plus a new coat of paint can make a room look brand new even if it's the only thing you change.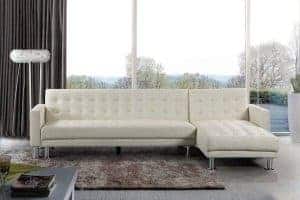 Pink Marble
In 2018 we saw an increase in black and green marble, however we believe there will be an increase in pink marble. While it has typically been associated with gaudier décor style, small accent pieces showcasing this salmon hue can add a great statement to your living space. Items like side or end tables are a great option for adding in statement pieces without overwhelming the space.
Built In Sofas
We all love built in bookcases, so what not build something else into a spot in your home? Built in sofas can be completely customized to the size and dimensions your family needs because, well, you're building it. You can also personally select the fabric for cushions. Also, what's best about these built ins is you can build side tables or even storage into the piece – whatever you want!
Period Piece Contrasts
You don't have to pick all your pieces from the same era. In 2019, you'll likely see a mix up of items from different centuries. Think about pairing ornate pieces – like lighting or chairs – with a minimal modern room. These pieces will act as an accent, or even a statement piece, for your room so you can make the room stand out without putting too many things in the room. Mixing period pieces with ultra modern ones creates a much more authentic and unique decorating style.